Continuum of Activity...
The second you start looking at job specs, you'll see that different companies call different roles by different names. The best thing to do is to establish a common language to "translate" job specs.
Taken from our recent Newly Qualified Career Guide the "Continuum of Activity" article below helps you do just that.
Broadly speaking, recently-qualified accountants moving to non-practice will see four different types of roles:
Financial accounting: what happened in the last month, quarter or year. Everything up to and including producing a set of accounts for a company;
Financial analysis: why it happened and what is likely to happen – the future. Budgeting, forecasting, analysis and planning on OPEX, CAPEX and revenue/sales;
Internal audit: not external audit, can be financial and operational and involves varying degrees of travel. Often used as a stepping stone; and
Other roles: Either specialist (treasury) or an extension of one of the activities above (like statutory reporting).
If a group of 100 people moved from practice to non-practice, the spread of roles they typically end up in looks like the graph below. Keep in mind:
The majority move into some sort of financial accounting role;
If you're willing to travel, you can get great experience using internal audit as a first step;
A financial analysis role is rarely a first step in your career, yet a lot of people aspire to this type of role. Typically, it's better to get experience preparing financial accounts before you start analysing and commenting on them. Also, if you want to be Finance Director someday, you'll need financial accounting experience under your belt – that's way easier to get earlier in your career; and
Smaller companies will combine the four basic roles into one. In roles that involve a mix of activity, be sure to get a percentage weighting on where your time will be spent. The job specs might be the same but how you spend your time could be different.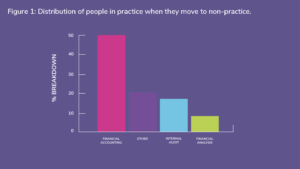 Newly Qualified Career Guide
Navigate the early stages of your professional future with expert advice, by accountants for accountants, in our latest "Newly Qualified Career Guide".
It's a product of our years of experience working with recently-qualified accountants. This guide is objective. It contains the information you need to know before looking for a new role – internally or externally. The more you use this guide, the more career informed you will be. Take control, get informed and plan your professional future with Barden.
You can download your copy here.
At Barden we invest our resources to bring you the very best insights on all things to do with your professional future. Got a topic you would like us to research? Got an insight you would like us to share with our audience? Drop us a note to hello@barden.ie and we will take it from there!