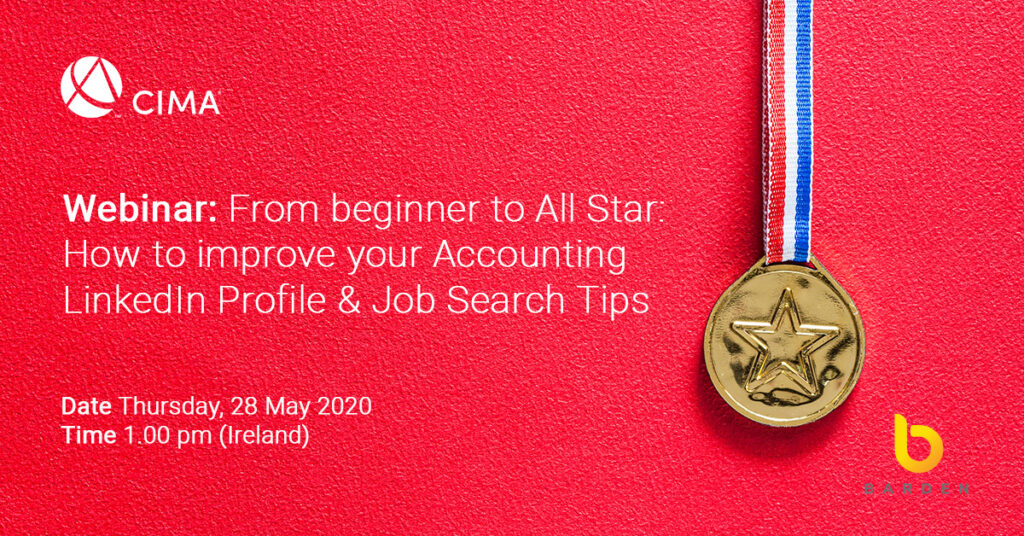 From beginner to All Star: How to improve your Accounting LinkedIn Profile - Webinar
CIMA Ireland and Barden are pleased to announce the second session of #HereToHelp you to succeed in your finance and management accounting career webinar series.
The second webinar series will take place on Thursday, 28th May at 1:00 PM
In this webinar Barden will give you the do's, the don'ts and the top tips for making your accounting LinkedIn profile the best out there. Join us and learn how you, as a finance professional, can take your LinkedIn profile from beginner to All Star! The Barden team will share their top job search tips too.
This webinar is useful for anyone who is evaluating a career change, is seeking a new role in finance, business and management accounting and wish to learn the TOP tips to master your LinkedIn profile. Undergraduates, graduates, professionals, students and members are welcome!
There will be an opportunity at the end of the webinar to ask questions, but you can also submit your question in advance, send an email to Ananda.moraes@aicpa-cima.com.
To register click here.
At Barden we invest our resources to bring you the very best insights on all things to do with your professional future. Got a topic you would like us to research? Got an insight you would like us to share with our audience? Drop us a note to hello@barden.ie and we will take it from there!