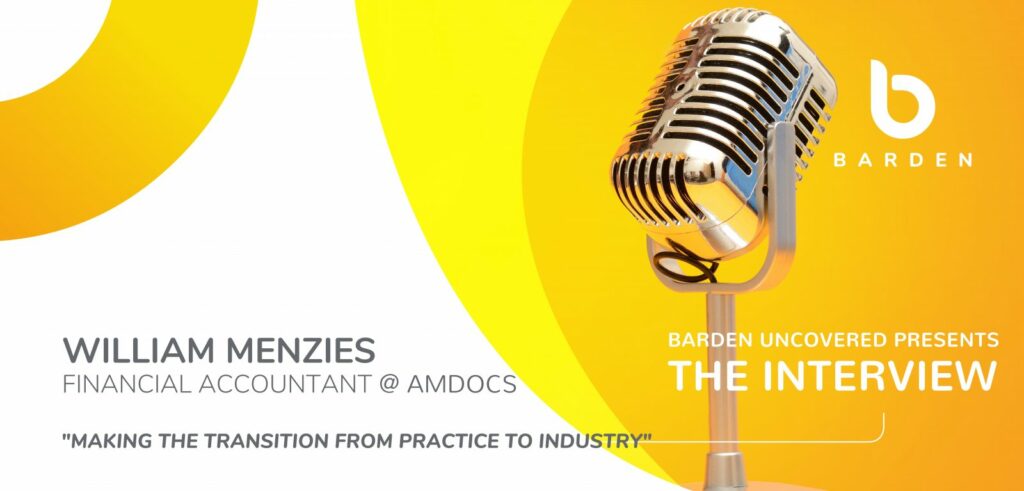 Barden Uncovered: An interview with Will Menzies of Amdocs on making the transition from Practice to Industry.
Making your first post-practice move can be both exciting, and a little daunting. Barden caught up with William Menzies, Financial Accountant at Amdocs, to hear his experience of transitioning from practice to industry.
William completed his training contract in a mid-sized firm, and then joined a Big 4 firm. "It was great to work in two different practice environments; both provided a different experience". While working in a mid-sized firm enabled William to gain hands-on accounts prep experience, the Big 4 provided him the opportunity to work with multinational clients, and gain exposure to group functions and various reporting standards.
When William decided it was the right time in his career to move to industry, joining a company with interesting work, an open culture and an emphasis on career development were his key drivers in deciding what organisation he joined. "I really liked everyone I met throughout the interview process with Amdocs and could feel the positive and warm atmosphere from the get-go; I knew it was the right place for me to grow my career in industry".
As with any new role, there was an initial adjustment and learning curve. "There were things I had very little exposure to during my time in practice, like US GAAP or complete visibility of the full balance sheet, and I was a little hesitant about this when I started, but it wasn't an issue". William credits the training he got from Day 1 as a key factor in making the transition from practice to industry a seamless one. Indeed, a consistency in support, and an open and collaborative workplace is essential to ensuring your first post-practice move is a successful (and enjoyable!) experience.
"Amdocs take an active interest in investing time in their people", William continues. Everyone has the opportunity to sit down with their Manager on a monthly basis to reflect on their performance and discuss any challenges they are struggling with. This focus on learning and developing creates a positive environment, where each team member can continually work on developing their professional skillset and experience.
So what does a typical day in the life of a recently qualified accountant in industry consist of?
"I have complete ownership of three entities, which requires a lot of interaction with teams in each of the entities, as well as receiving, verifying and processing information". William enjoys the responsibility and autonomy of having of having ownership of these entities, yet help is always on hand from the wider team should he need it.
Aside from the day-to-day tasks, there is also ample opportunities to get involved with various ongoing projects. "Amdocs is an acquisitive business, so it's incredibly interesting to get direct exposure to the acquisition process so early on in my career". Other projects include transitioning legacy finance systems to SAP and establishing processes and procedures to ensure finance tasks are carried out effectively and efficiently.
What is William's advice to accountants looking to leave their practice days behind and make the move to industry?
"Don't just look at job titles or specs and dismiss an opportunity; take the time to go and meet the people you will be working with". It's not until you meet your future Manager, or step foot into the office and experience the atmosphere, that you know whether the organisation is a right fit for you.
Culture is also another key element to consider. "For me, a large part of the reason I joined Amdocs is the people", William explains. An organisation that promotes and embodies a supportive, friendly and open culture makes all the difference when making your first post-practice move. And, of course, the team bonding and social element is also important to ensure you're content in your new environment. I hear the Amdocs team are expert Roller Disco-ers, but we'll leave that story for another day! 😉
At Barden we invest our resources to bring you the very best insights on all things to do with your professional future. Got a topic you would like us to research? Got an insight you would like us to share with our audience? Drop us a note to hello@barden.ie and we will take it from there!