If you're hiring a Payroll professional this quarter, here are some things you need to know…
The payroll profession in Ireland is a vital component of the country's workforce and without payroll teams businesses just do not function. The market for Payroll talent is competitive, with a consistent demand for skilled experienced professionals.
When hiring in payroll it is always a good idea to understand the key variables that exist within the profession, the variables that exist in your own specific opportunity and, where you can be flexible and where you cannot be flexible.  Engaging talent with very specific skill sets in Payroll can be very challenging, so thinking outside the box, to a degree, can have a significant impact on lead time to hire and the salaries involved.
As we look towards 2024 the top 4 challenges likely to face leaders in the payroll profession will continue to include regulatory changes, technological advancements, talent retention, and cybersecurity. More on that later.
In Barden we know payroll and we know talent.  Here are a few things that might be helpful if you are thinking of bringing new payroll talent into your team:
#1 Base
Let's talk reward first and what you would expect to pay today.
We're going to focus on both bureau payroll and in-house payroll. This is also a very broad guideline and it's important to understand the specifics of each individual role i.e., specialities, size of team, scope of responsibilities (context is very important when considering salary guides as we further delve into below!).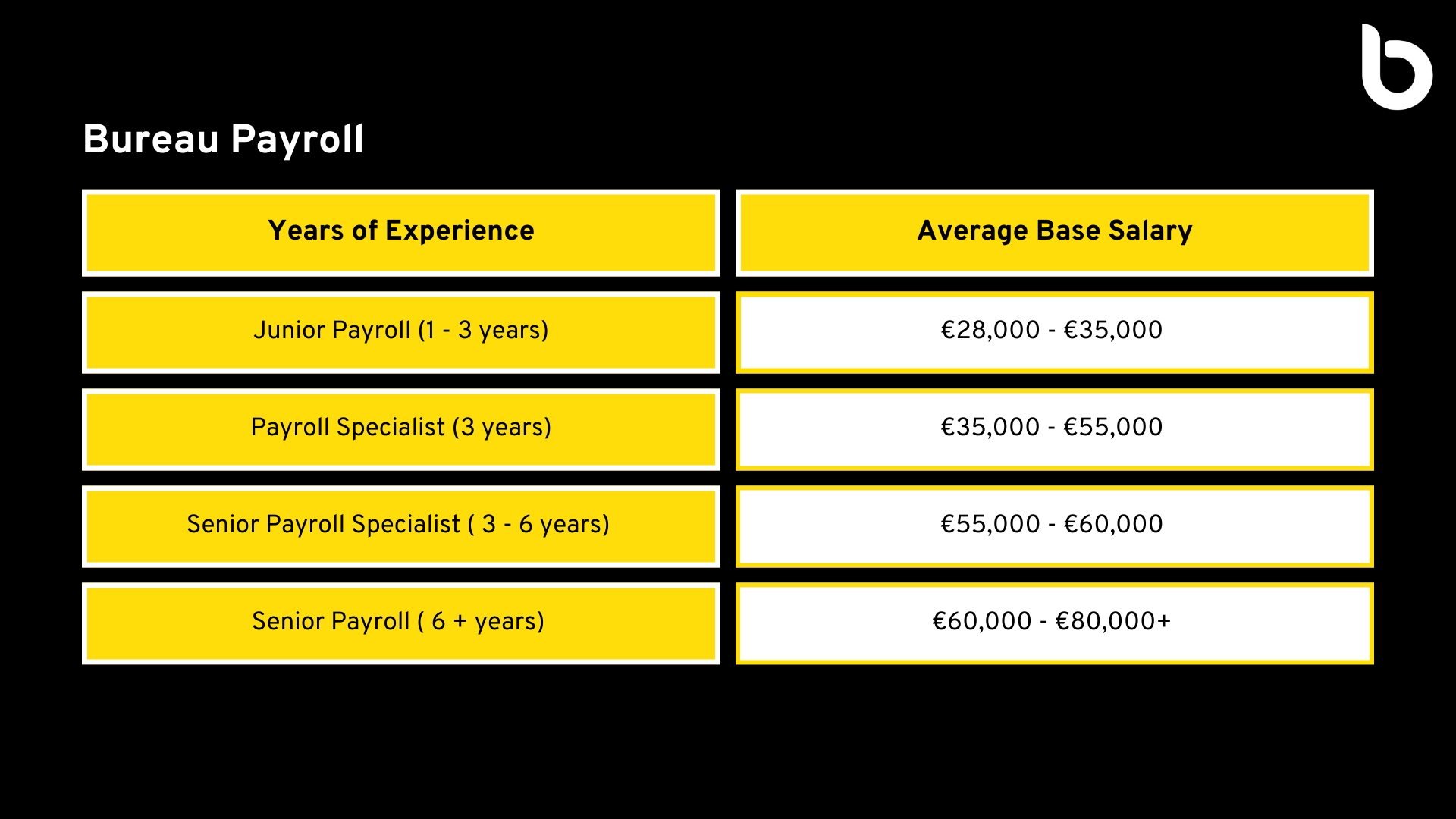 You can expect a 10-15% reduction on the above numbers, when considering appointments outside of  the greater Dublin area. For bespoke advice, our team can provide further details, please contact sarah.griffin@barden.ie (Leinster) or tara.higgins@barden.ie (Munster).
#2 Niche skills and variables that matter…
Identifying talent with niche payroll skills is tricky. Fact. Specialisations may include knowledge of international payroll, complex tax regulations, expertise in specific software systems and more.
Employers often rely on professional certifications like IPASS (The Irish Payroll Association) to identify talent with the required skill set, however our best advice is to be led by experience and expertise first, qualifications second.
What jurisdictions/regions a payroll professional covers is one of the most important variables to consider. Does the payroll cover just ROI or IOI; or is it UK&I; or what about if it is across EMEA or even Global.  The footprint of the headcount, the employment relationships that exist (temporary v permanent) and the division of labour between internal and third party in country providers, all combine in a way that can make one payroll professional very different to the next.
And that's just for starters – some other variables include: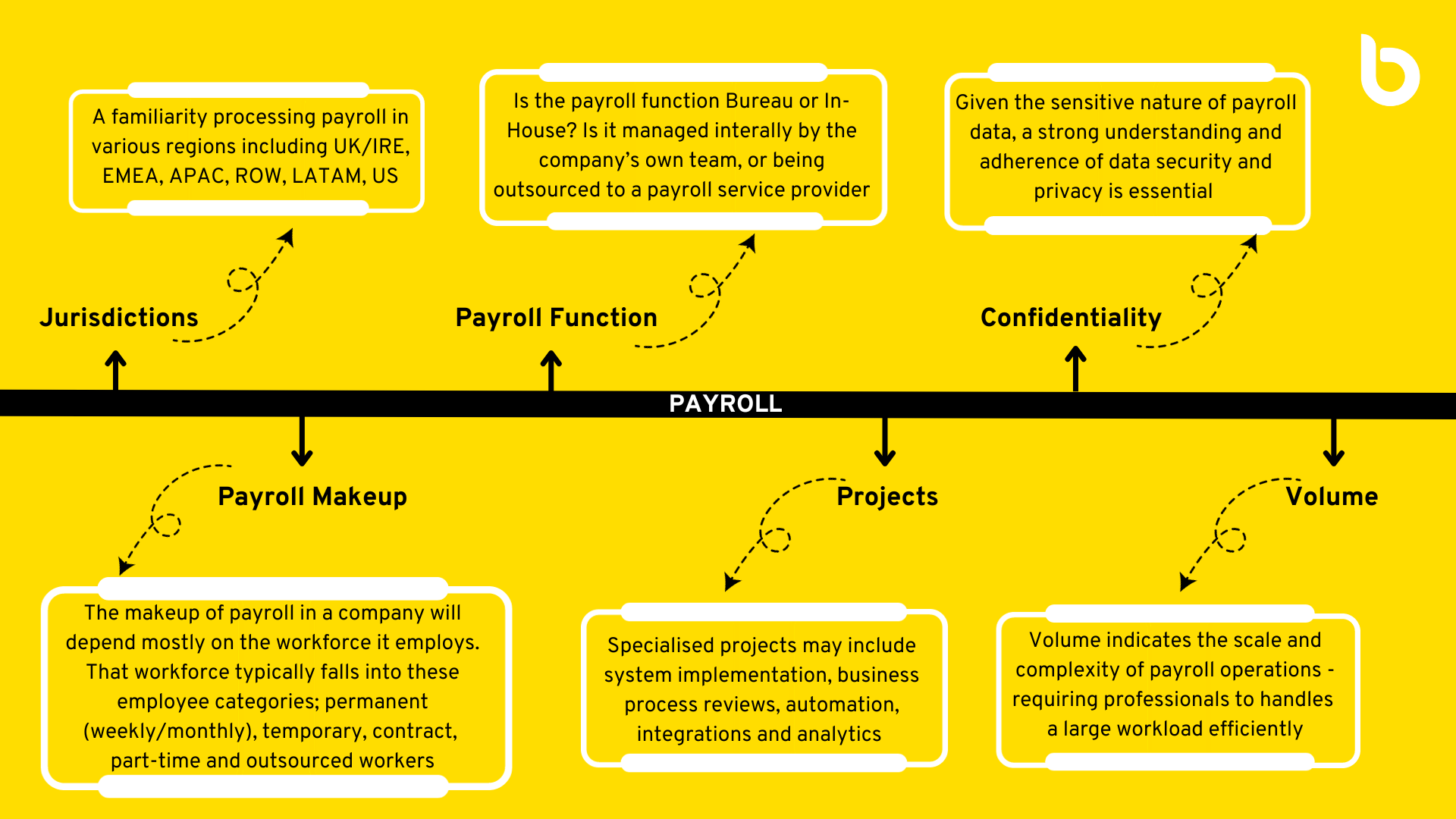 #3 Talent Availability
The demand for payroll professionals in Ireland has been consistent over the last decade and while advances in tech have improved efficiencies in the process, human oversight, approval and management of such a business sensitive activity remains firmly in the hands of Payroll talent.
Over the last decade payroll has increasingly become not just a function of finance/HR but a destination for finance talent.  This steady supply of people choosing Payroll as their career is promising and bodes well for the future for both employers and professionals looking to build and grow payroll teams.
At a macro level there is a good supply of junior payroll professionals in the market -getting the right culture fit and retaining the more junior talent over time, are the biggest challenges for hiring managers at this level.
Conversely, there continues to be a challenge in identifying and attracting senior payroll professionals with large volume payroll or multijurisdictional payroll experience; with competition high the experienced end of the payroll profession continues to be in the driving seat.
Here are some data points about the payroll market in Ireland this quarter:
#4 Projected Challenges for 2024
The payroll profession in Ireland is likely to face some challenges in 2024, including:
Regulatory Changes – Continual updates to payroll laws and tax regulations necessitate staying up-to-date and adapting to changes.
Evolving Technology – The integration of AI and automation in payroll processes may require professionals to upskill to remain relevant.
Talent Retention – As the demand for skilled payroll professionals continues to rise, retaining top talent will likely be a challenge for employers.
Cybersecurity – With an increased reliance on digital systems, payroll departments need to focus on cybersecurity to protect sensitive financial data.
In Barden we understand that each team, role, and requirement is unique. If you would like to discuss what tactics and approaches would suit you, contact our team here in Barden, Leinster – Sarah Griffin (sarah.griffin@barden.ie), Munster – Tara Higgins (tara.higgins@barden.ie);  we're where leaders go before, they start looking for Payroll talent.
This information is accurate as per October 2023 and will be updated periodically. Data sources include Barden Proprietary Data, LinkedIn Analytics and other 3rd party data sources.  If you have a request and would like real-time information to inform your hiring decisions contact Sarah Griffin (Leinster) at sarah.griffin@barden.ie or Tara Higgins (Munster) at tara.higgins@barden.ie